Vibe Magazine (US, Febuary 2006)
Native Tongue
Lisbon may not be the first city that comes to mind when you start planning a European holiday, but singer Nelly Furtado finds Portugal's capital to be a diamond in the rough. Something to think about before you take your girl to Paris-again.
Why Go
Lisbon is an untouched jewel. My parents are from the Azores islands, but I've been to Lisbon 10 times. It's a cosmopolitan city, but it's off the radar, which makes it cool. Artistically and creatively, it's ahead of the game. When you're there, it's like you're in on a little secret.
Where To Stay
During my most recent trip, for the MTV Europe Music Awards, I stayed at the Four Seasons Hotel Ritz Lisbon (+351-21-381-1400; fourseasons.com (that number and website are actually in the article, as well as others)). If you choose a chain hotel, you're comfortable, but it ends up giving you the "on tour" feeling. I like to kind of seek out what's cool in the city- like the Palacio Belmonte (+351-21-881-6600; palaciobelmonte.com). It used to be a royal palace, and they made it into a hotel, so there's only maybe 10 rooms in the whole place.
Where To Eat
Every time I'm in Lisbon, I go to Santa Antonio de Alfama (+351-21-888-1328). It's tucked away in one of the city's older districts. We know the chef, and you can sit and drink red wine and eat for five hours! The wine is cheap because it's local, so for $2, you'll get an amazing bottle. This last trip, I also went to this Italian-Portuguese fusion restaurant Mezzalluna (+351-21-387-99-44). It was really, really wonderful.
What To Do
What's really fun is to go to a fado bar. You can sit down, have dinner and wine (Tiff's note: Nelly's such a drunk. LOL!! Just joking), and singers will perform this original, nostalgic music, accompanied by a guitara. It's truly enchanting. For nightclubs, there's an area called Docas. Portugal used to have colonies in Angola and Mozambique, so there's a large African population in Lisbon. The music in the Angolian nightclubs is incredible. It's a fusion of African rythm and a little bit of Portuguese fado- absolutely beautiful music- and somtimes couples will dance, almost like a semba. My favourite semba club is Discoteca Mussulo (+351-21-355-68-72), located in the central district. The first time I heard this music, I almost died. It's totally unique.
What To Buy
Portugal is big in the textile industry. Near the Jeronimos Monastery, which has the tombs of Portuguese writer Luis Camoes and our great explorer vasco da Gama, there are artisan stores with really nice handmade woven sweaters and embroidered things, like tablecloths and handkerchiefs. My last time there, I picked up a traditional folk-dancing outfit for my daughter.
What To Pack

You'll be out late drinking lots of amazing tasting wine, so bring a hangover helper. I travel with homeopathic medicine, which I highly recommend.
As told to Brenden Frederick.
Photographs by Mauricio Matos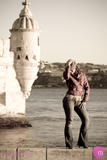 More Pics: Click here